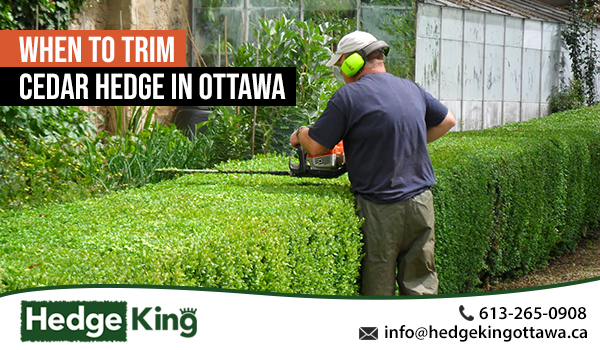 When planting a hedge in the yard, cedars can provide a benefit including, protection of a property line, creation of a natural way to privacy needs. Thick green hedges are the source of both a visual and sound obstacle when properly sustained.
In Ottawa, the Best Duration to Trim Cedar Hedge in Ottawa varies from types to type— cedar and deciduous hedges have different trimming times. Hedge trimming is a difficult task. It requires specific time and tools. Homeowners cannot perform this task themselves. Browsing about hedge trimming might guide you but you need professionals to perform this task. It has several pros. Cedar hedge required different climate to get garnished. Most people ignore the trimming of a hedge and it grows into a rough and long barrier.
It leaves a bad impact on your personality. Negligence in cedar trimming and over-trimming can be dangerous. You might be worried about not destroying the whole plant and trimming a cedar hedge in time. The solution to both of these problems is that they must hire an expert. Hedge trimming companies have trained professionals to trim the hedge and conserve its beauty and charm. They know When to Trim Cedar Hedge in Ottawa and have the best tools.
Supervision of Hedge is Vital
Supervision of hedge is very necessary. During the growth years of the hedge, pruning is done to ensure better growth. At the same time, owner should keep and eye on the health of hedge. While the hedge is completely grown, it must be trimmed yearly. Supervision will lead you guess When to Trim Cedar Hedge in Ottawa. You can hire professionals in Stittsville as well. They are acknowledged of the comprehensive maintenance of cedar hedge in Ottawa. Sustenance of hedge compels proper feeding of fertilizers and watering, the right moment to trim the hedge, shaping and proper practice to trim the hedge.
Benefits of Hedge Trimming
Trimming is an essential element to take care of the hedge. It will stimulate the growth of a healthy hedge. Trimming enables to facilitate and control the growth, length and volume of a hedge, and will resist loss of yard space due to overgrowth. Trimming also helps to stimulate new diverse green branches, safety from snow and ice destructions, as well as assuring a class and aesthetically fascinating look to your garden.
Best Time to Trim the Cedar Hedge
Cedar hedges a very resilient hedge. They are many times found in natural settings. Cedar trees are also directing the forest line as a natural hedge. They survive in the areas where other plants couldn't survive. Typically, a yearly hedge trim is highly recommended. However, professionals recommend trimming the hedge at the similar time every year to develop long growth cycle. There is no good or bad time to trim your hedge, but knowing When to Trim Cedar Hedge in Ottawa can boost and affect the goals you have set for your hedge.
Cedar hedges grow throughout July and August. There is a lot of sunlight and water from the spring rain to bloom new leaves. It is the best time to trim the cedar hedge

While in the fall season there is less rain and sunlight and growth factors are not strong enough. Hence it is not the best time to trim the cedar hedge.

Ignoring this fact might destroy the whole hedge. It requires a professional to identify the trimming time of the cedar hedge. Cedar hedge must be trimmed in the Spring and before the Fall season.
These climate factors should be kept in mind while trimming the hedge because it is the best duration to know When to Trim Cedar Hedge in Ottawa. Growth becomes better during spring season. While trimming in the fall months, establishes a bad growth cycle. Both cycles are healthy and beneficial but it varies from type to type of a hedge. Cedar hedge should be maintained and trimmed in the spring season to maintain its growth.