As a homeowner, you know the effort that goes into building and maintaining a beautiful yard. Beautiful looking landscaped is not only important for your home-pride but also increases overall value and curb appearance. Trees are the most vital part of your house's exterior look as they provide shade and fill your yard with life.
Trees aren't just as easy as planting and watering. A happy and healthy tree requires maintenance including trimming, regular monitoring and seasonal adjustments to grow healthy and lush. If you want disease-free and attractive trees without any hassle, you need to hire an experienced tree care specialist. They specialize in the care of individual trees and guarantee disease-free and attractive trees. So, hiring arborists is a decision that should not be taken lightly. If you are still unsure why you should hire an experienced arborist for your tree cutting service in Ottawa, here are some convincing reasons.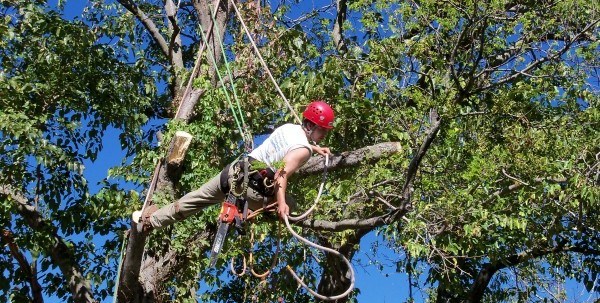 Arborists are Trained in Proper Tree Care
One of the most popular reasons why you should hire an arborist for Ottawa tree trimming is that they are trained in proper tree care and maintenance. Having healthy trees is essential for someone that has trees. How frustrating is investing time and energy into getting all of your shrubs planted just to have them die within the first year of having them planted?
This is a common scenario for new homeowners that are having their first go at having a yard with healthy and beautiful trees. Maybe they don't use the right fertilizer or over trim their trees. Trees can live longer than humans can, however for maintaining your tree's quality life, you need to take care of it. Proper tree care is an investment that can have real returns.
Arborists can Work on Trees Safely
An experienced tree specialist can work on trees safely and this is another reason why you should hire an arborist. To handle tree care most safely, you need to know the proper tools and equipment required for tree cutting service in Ottawa. Often, an arborist needs to get up in a tree just to take care of the frustrating branch. An arborist comes up with the proper equipment necessary to ensure that the job is handled in the safest way possible. Make sure you choose an arborist with proper harnessing equipment necessary to get up in your trees. When performing Ottawa tree trimming or cutting, an experienced arborist can ensure that there won't be any problems with safety trimming or cutting. The investment required for hiring an expert for tree services is cheaper than the potential cost from unnecessary accidents.
Arborists can Protect your Investment and Property Value
An experienced arborist can help protect your property value and investment by making sure that the money you spent on having the landscaping professionally done doesn't go down the drain. But how? People spend all of their money on trees and have no idea about when to water or fertilize or trim and everything runs the risk of dying. Having to trim dead branches is another cost that is way more than what hiring a professional would end up costing. You can save money by preventing unnecessary loss with tree cutting service in Ottawa. Plus, a beautiful and healthy tree enhances your property value.
Arborists Can Help with Storm Damage
Arborists also prevent any possible threat to your trees, however, make sure arborists have the right training and knowledge to prevent. Tree care specialists are trained at being able to handle extremely overwhelming issues for the untrained person. Arborists take care of risks that could occur due to strong winds or hail to help with storm damage.
Correcting the hazard — occurs due to a strong storm — can pose a lot of dangerous risks. It is impossible to be able to protect your tree and property from storm damage. But a certified Ottawa tree trimming a specialist can inspect for issues that could predispose your trees and property to failure.
Experienced arborists can inspect for any decay that might be present in your trees' branches. Having proper structural support for a tree that has minor decay can prevent a huge potential disaster. Different cables and braces can help support a tree that is taking on high-speed winds. An arborist can also inspect for dead limbs and that could break and put your home at risk during a storm. Besides, arborists provide Ottawa tree trimming services to protect your trees and property from strong storm damage.
Hopefully, you have now understood why hiring arborists for Ottawa tree trimming and cutting services is essential. Make sure you are an arborist that has many years of experience, knowledge, and essential tools for tree care services. If you are looking for professional arborists in Ottawa, Hedge King is the right place for you!
Get in touch with Hedge King!
At Hedge King, we employ several arborists to ensure our customers and their trees get the best treatment possible. If you have questions on a tree cutting service in Ottawa or want more information on proper tree care, get in touch with us today!
It may also help: Best time of the year to tree removal service