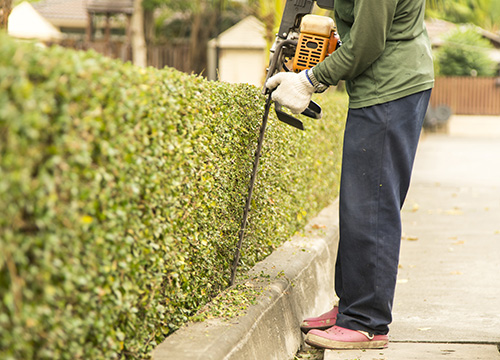 An excellent way of creating a resilient home or property landscape is by managing the trees and hedges around it. Proper maintenance such as pruning and trimming is one of the ways to keep them neat and sharp. Cedar hedges, for instance, are often used to create privacy and beauty on a property. In Ottawa, for example, there are several cedar tree species, with Thuja occidentals being the most common.
You should, however, be careful when marking where you need to place your cedar hedge. Avoid placing your cedar hedges close to steep slopes that cause moisture loss. Also, don't set your fence near roadways, walkways, or paths where salt is used during the winter to prevent damages. These are some considerations when setting your hedge.
But a time comes when you need to remove your cedar hedge.
In Ottawa, cedar hedges are some of the best for boundaries because they don't have any severe disease or insect problems. Even though they are prone to diseases and pests, the effect of an infestation is ordinarily minimal.
You may consider removal if your cedar hedge is overgrown, disease-infested, you need a new look for your landscape, can't put up with the regular pruning or trimming, property destruction, or other safety concerns.
If you reside in Ottawa, you must first consider your cedar hedge species to understand the best way to remove it.
Some species like the Thuja occidentals can grow to about 15 feet, while others can reach 60 feet. Mature cedars are hard to maintain, and with regular trimming, they lose their attraction and beauty.
Proper cedar removal in Ottawa is vital to prevent re-growing because of its tenacity. Hiring reliable and credible tree removal services is the best way to go. But here are some things to consider in Ottawa if you decide to remove your hedge.
The Right Cedar Hedge Equipment
When you embark on hedge removal, you don't want to damage your property or landscape. It is important in this case to hire the right company with the befitting equipment and expertise. The experts will remove the stumps preventing suckers from sprouting again.
This way, you prevent injuries, and the process doesn't pose any threat to your property.
Hedge Environmental Maintenance
Make sure your hedge removal decision is in line with the environmental laws in Ottawa. Environmental conservation is a key consideration. Ensure the company you hire is legally certified to carry out such services and processes.
A credible tree removal company should be affordable when removing your hedge. Overgrown cedar boundaries near homes and other property can ruin walls and roofings, costing you more repairs.
Check if the hedge is not too close to or above vital infrastructures such as cables or drains. If it may lead to a drainage collapse or cable destruction, it can significantly increase the removal cost. Hiring a company with excellent services and professionals will always help you save time and money in such situations.
Whether or not a cedar hedge is near cables, a wall, drain, or other infrastructures, you should always hire a removal company. They will safely remove the stumps and other remains efficiently. A landscape contractor will also help sustain or remodel your space. Don't try to remove your cedar hedge in Ottawa without professional help.
Contact Hedge King for a FREE onsite assessment