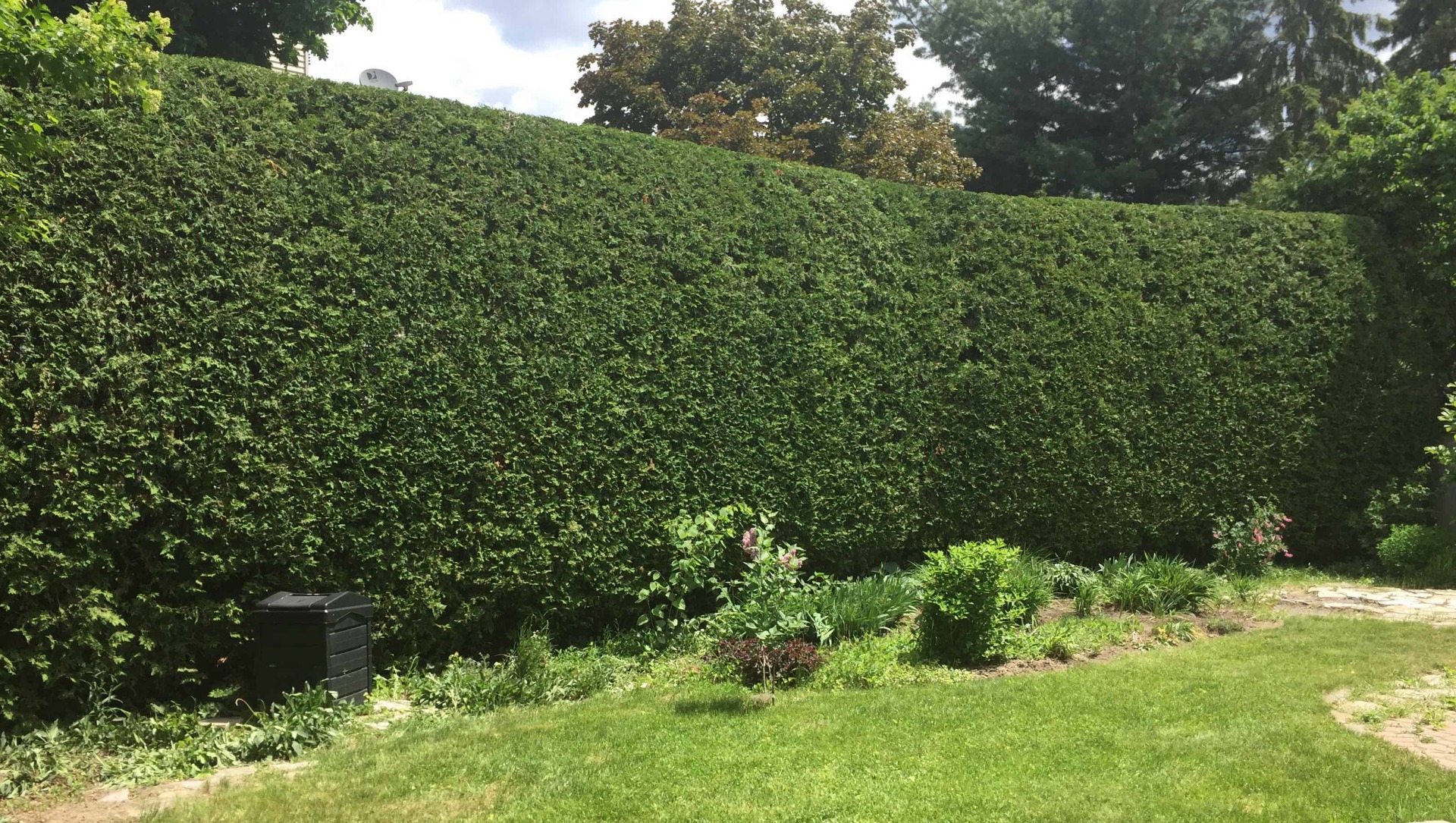 Hedge Trimming
At Hedge King, trimming cedar hedges is our speciality. We take tremendous pride in our work and will always strive to deliver the best results possible for your particular landscape. With our spectacular Google reviews, you can be sure we will do whatever we can to leave you 100% satisfied.
It is important to hire a professional to maintain your hedge as it requires skill and experience to trim a hedge properly. If too much growth is removed from your hedge it can case severe irreparable damage. At Hedge King, all our employees undergo vigorous training to insure the can properly trim all sizes of hedges. Big or small we can trim them all.
The single most important thing you can do to maintain the overall health of your hedge is to keep up with yearly trimming. This has many advantages, some of which include:
Maintaining the "footprint" of the hedge (the amount of your yard it will try to claim for itself)

Controlling the upper growth of the hedge to maintain its height

Yearly trimming will allow more sunlight to reach the sides of the hedge, which will promote growth, and increase its overall density.
Every trimming service includes a complete cleanup of the work area; our staff is trained to leave your property as clean or cleaner than it was when we arrived.
Shrub Trimming
All shrubs are beautiful and well proportioned when they are first brought home from the garden center but in no time at all they can seem to lose their shape, density and balance. This is due to environmental factors that include: access to sunlight or shade, proximity of neighbouring plants and trees, or the amount of water that they receive. Regular trimming will help train your shrubs to hold the shape and look the way you desire.
At Hedge King our staff have more than 25 years of combined trimming experience. We can refresh the look of your tired or overgrown plantings, and with repeated maintenance we can keep your yard looking its very best.
Did you know that regular trimming of your ornamental shrubs is an easy way to increase the curb appeal of your home?
Hedge Removal
Sometimes, due to age, neglect or winter damage, a cedar hedge can become too large or damaged to be worth the effort of maintaining it. Keep in mind a large overgrown hedge can only be cut back so much (approx 1/4 of its height can be removed from the top and in a lot of cases only around 1/8 of the width can be removed). Remove more than this and it will case permanent damage to the hedge. This is when removal may become your best option. At Hedge King we offer a complete hedge replacement service. We provide:
A free consultation to decide the best way forward for your situation

A highly experienced crew which will remove your hedge using professional and modern equipment

Removal of the old stumps so that planting of new hedges, shrubs, gardens or simply sod is as easy as possible

Installation of high-quality topsoil (if required) to help correct the grade of your turf area which can become uneven under old or well-established hedges

A complete cleanup of the area to remove all hedge debris or damage
Hedge Planting
Cedar hedges can have many positive effects on your landscape, which include:
Providing privacy options that a simple 7ft fence cannot offer

eastern white cedars do not shed all their leaves in the fall, thus providing year round privacy.

There are by-laws restricting fence heights but not for limiting the height of a hedge. This can be ideal for backyard privacy.

Adding colour to your landscape

Providing a living barrier which will become a home to birds and other small creatures

Cedar hedges can be used to hide or disguise certain aspects of your landscape (i.e. hydro boxes, cable and phone junction boxes, pool sheds and pump houses)
We use only the highest quality fully cultivated eastern white cedar hedges. These are not the typical spindly field cedars that you find at most garden centres. Fully cultivated cedars are grown on a dedicated cedar farm where they are fertilized and strategically pruned yearly to promote the thickest growth. This ensures you get the best possible results on the day of your planting and for many years to come. (Expect fully cultivated cedars to put you 3 years of growth ahead of the growth on a field cedar) We will fertilize your new hedges as we plant them to give them all that they need for the first year in their new home. All that is left for you to do is water! All our hedge plantings are guaranteed for 1 year from the date of installation.